The all awaited Apple Iphone 7 will be coming to an Apple store new you after Apple officially announced the release of both the Iphone 7 and Iphone 7 Plus. Well, the design of the phone isn't as different as its predecessor the Iphone 6 but has some really jisty updates to match up, or rather counter the Samsung Galaxy S7. Features such as water resistance, darker black colour and the most exciting; dual camera system. (Two cameras that work as one)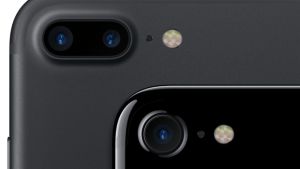 First of all let's come to the conclusion that nobody nowadays in this day and age wants to buy a phone with a pathetic camera. We all love that HD selfie, and not just for the ladies but also the men in fact. Why would you think they came up with a darker black colour scheme? Another plus to the Iphone camera is that the front facing camera is an upgraded 7MP sensor with auto image stabilisation.
The Iphone 7 & 7+ will come in 5 colours that will include a beautiful black matte finish and an innovative jet black finish with a deep high gloss look. I think by Jet black they just want it to sound and look more tactical for the strong persona user.
The most hyped aspect of the phone is how we have watched the iPhone lose its head phone jack. Yes, you heard it right; this will render countless 3.5mm headphones useless with the device. i guess all good things have an end, right? But what seems to be a downside may be an upside with emerging trends and all this "boo hoo" about the gone headphone jack will be a thing of the past and we will all get used to bluetooth headphones. Technology is growing, shouldn't we just grow up too?
The first thing that got into my head when i heard the words 'wireless headphones' was that i would lose them in a week's time. Im sure so many other people would think the same. This idea of wireless headphones has already created potential enmity amongst friends blaming each other for misplaced headphones. Social media also wasn't quiet about the whole idea and went on a meme rampage about the headphones with both positive and negative thoughts about it.
So the wireless headphones are referred to as Airpods according to Apple, will be retailing at £159 which translates to 16103 ksh. (rate=101.28) Well, good luck with that fellow Kenyans. The iPhone 7 will be officially released later on this year with the iPhone 7+ later on after that. We should also expect generics or overpriced gadgets hailing all over town.
I think the best way to prevent yourself from being duped is simply  buying from trusted dealers and resellers who are well known out there. I bet Kenyans all over will be hyped by this gadget and we can almost guess that this phone will be a classic. However, Kenyans, lets not stoop low and buy generics or over priced phones and gadgets; lets buy authentic iPhones from authentic stores my people. We've got plenty of them around in Nairobi and Mombasa. It pains me to see people walking around with generics.
The iPhone 7 has to many features that all can't fit on this canvas today and will be featured on later posts.
Visit stores such as Elite Digital to get official dates on the Iphone 7's arrival in Mombasa or pre-order to get the best deals on the gadgets and accessories.